Two 20-year-olds were charged Friday with multiple counts of homicide in the killings of four young men who went missing last week in Bucks County.
Cosmo Dinardo, 20, of Bensalem, was charged in all four killings , according to court records. Sean Michael Kratz, 20, of Northeast Philadelphia, was charged in three of the homicides, authorities said.
The Bucks County District Attorney's Office released details of the killings Friday afternoon. All of the victims have been positively identified, said District Attorney Matthew Weintraub.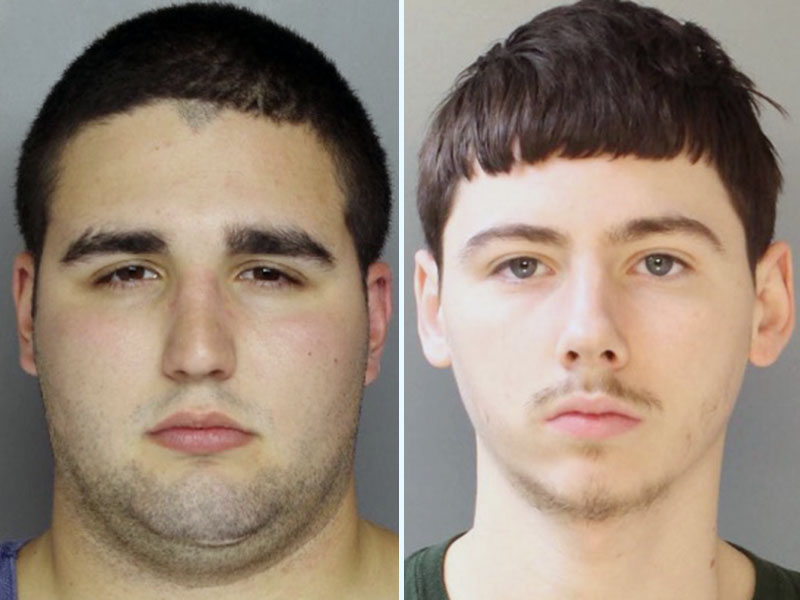 The bodies were recovered on a sprawling property in Solebury Township owned by Dinardo's parents. One of them was found buried in a 6-feet-deep grave and the other three were found in a tank buried more than 12 feet underground in a separate spot, authorities said.
Dinardo and Kratz are both charged with the July 7 slayings of Dean Finocchiaro, 19, of Middletown Township; Thomas Meo, 21, of Plumstead Township; and Mark Sturgis, 22, of Pennsburg, Montgomery County. Their bodies were found Wednesday in a 12-foot-deep common grave elsewhere on the same property.
All four men had been shot, according to a probable cause affidavit, which said the suspects both gave statements to police on Thursday.
Dinardo and Kratz are expected to be arraigned via video Friday afternoon before District Judge Maggie Snow of Buckingham Township.
The district attorney's office gave the following account:
According to the probable cause affidavit, Dinardo told investigators that he had agreed to sell Patrick four pounds of marijuana for $8,000. Dinardo said he picked up Patrick at Patrick's home in Newtown on July 5 and drove him to the Dinardo property at 6071 Lower York Road in Solebury, the affidavit says.
When they arrived, Dinardo said, Patrick had only $800, so Dinardo offered to sell him a shotgun for that amount, the affidavit says. They walked to a remote part of the property, where Dinardo said he fatally shot Patrick with a .22 caliber rifle, according to the affidavit.
Dinardo then drove a backhoe that was on the property to where Patrick lay, dug a hole no more than 6 feet deep and buried him, the affidavit states. Based on Dinardo's statement, investigators located Patrick's body in that grave late Thursday.
On July 7, Dinardo told investigators, he agreed to sell a quarter-pound of marijuana to Finocchiaro for about $700, the affidavit states. Dinardo first picked up Kratz, whom he described as his cousin, and drove to Finocchiaro's home in Middletown, agreeing on the way that they would rob him, the affidavit says.
Dinardo said he gave Kratz a .357 handgun belonging to his mother, and then drove all three to the Solebury property. According to the affidavit, he said Kratz shot Finocchiaro in the head as they were leaving a barn on the site. Dinardo told investigators he then took the gun and shot Finocchiaro a second time as the victim lay on the ground.
Also on July 7, Dinardo said he met Meo and Sturgis at a church parking lot in Peddlers Village, a short distance west of the Dinardo property on Route 202 in Lahaska, the court records say. Dinardo told investigators that he had a marijuana "deal" set up with Meo, according to the affidavit.
Meo and Sturgis followed Dinardo to the Solebury property in Meo's Nissan Maxima, Dinardo told investigators, the documents say. After parking the Nissan at 2827 Aquetong Road, Meo and Sturgis rode with Dinardo in his truck to the adjacent Lower York Road property, where Kratz awaited, the affidavit states.
After the men exited the truck, Dinardo said, he shot Meo in the back with the .357 handgun, then fired several times at Sturgis as he fled, felling him, the affidavit states. Dinardo said he then ran over Meo with the backhoe before using it to lift both bodies into a metal tank where he already had placed Finocchiaro's corpse, the court records say.
The following day, Dinardo told police, he and Kratz returned to the property, where Dinardo used the backhoe to dig a deep hole and bury the tank containing the three bodies, the affidavit says.
Kratz gave a similar statement to detectives on Thursday night, the affidavit says, but said that it was Dinardo who shot Finocchiaro, not him.
Tony Rhodin may be reached at arhodin@lehighvalleylive.com. Follow him on Twitter @TonyRhodin. Find lehighvalleylive.com on Facebook.